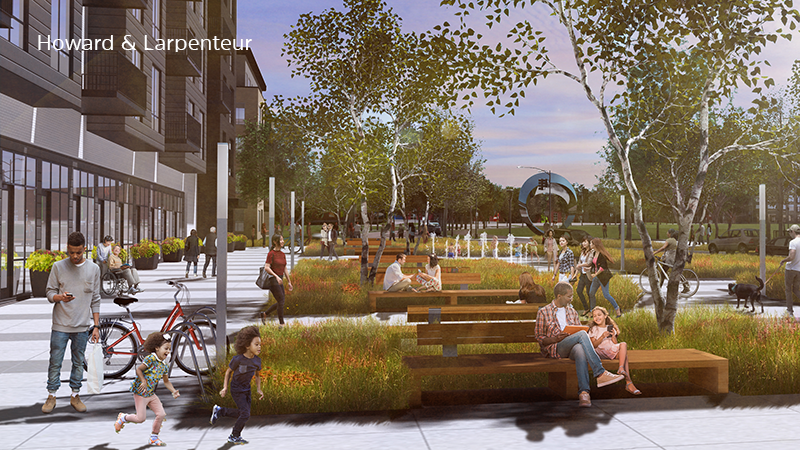 Sherman Associates: Lead Housing Developer
Sherman Associates will be the lead housing developer for 1,000+ housing units at The Heights. Sherman's plans include housing for all ages and incomes, with a strategic mix of housing types including workforce market-rate, affordable, and deeply affordable options.
Sherman will deliver both high- and mid-density housing options for sale and rent, focusing on the "missing middle" for young households, large households, multigenerational households, and seniors. The development will provide walkability, community connectivity, and affordable housing options to the East Side community.
"Sherman Associates has developed and managed multifamily housing in St. Paul for over 30 years and has a long-term commitment to the community. Along with the City of St. Paul, Ramsey County, and the State of Minnesota, we look forward to engaging with our public and private partners and the community to deliver high-quality, sustainable homes that will enhance the East Side community for generations."

Chris Sherman, President of Sherman Associates
As a developer, owner, and manager, Sherman is fully devoted to creating a positive social impact by ensuring sustainability in their projects. They are committed to supporting the sustainability goals set for The Heights and plan to surpass baseline standards. Sherman will collaborate with key stakeholders, including the Saint Paul Port Authority, as designs progress.
Partnerships
Sherman will partner with JO Companies  and Twin Cities Habitat to develop a range of housing options. Sherman will develop approximately 700 multifamily units, with JO Companies spearheading a smaller multifamily building with 110 to 230 units. In addition, Twin Cities Habitat will provide 130 to 150 affordable home ownership opportunities, including twin, triplex, fourplex, and single-family homes.
JO Companies, LLC is a black-owned, mission driven real estate development company located in the Twin Cities that specializes in developing affordable and workforce multifamily housing. Other real estate development areas include: market rate, mixed-use, and commercial. The company was founded by Johnny Opara, President and CEO in 2009. JO Companies currently has over $200M in their real estate development pipeline, and recently completed "The Hollows" an $18.4M, 62-unit workforce housing development on the Greater Eastside in Saint Paul.
"As someone who grew up in Saint Paul and has an opportunity to be a part of history both professionally and personally, this is a great moment for the capital city. The collective vision for The Heights brings together the private and public sectors to partner and bring forth high-quality, sustainable housing options for families on the East Side of Saint Paul. This partnership is a true representation of our growing and diverse city and the culmination of hard work, and years in the making."

Johnny Opara, President & CEO of JO Companies
Twin Cities Habitat for Humanity brings people together to create, preserve, and promote affordable homeownership and advance racial equity in housing. Since 1985, more than 1,600 families have partnered with Twin Cities Habitat to unlock the transformational power of homeownership. Twin Cities Habitat is one of the highest-regarded Habitat for Humanity affiliates nationwide.
"Twin Cities Habitat for Humanity is honored to be a partner in this transformative project on the East Side that will have a meaningful impact on our region's housing shortage. We will create up to 150 affordable homeownership opportunities at The Heights, which will unlock generational wealth-building for working-class families and create a more vibrant, equitable City of Saint Paul."

Chris Coleman, President & CEO of Twin Cities Habitat for Humanity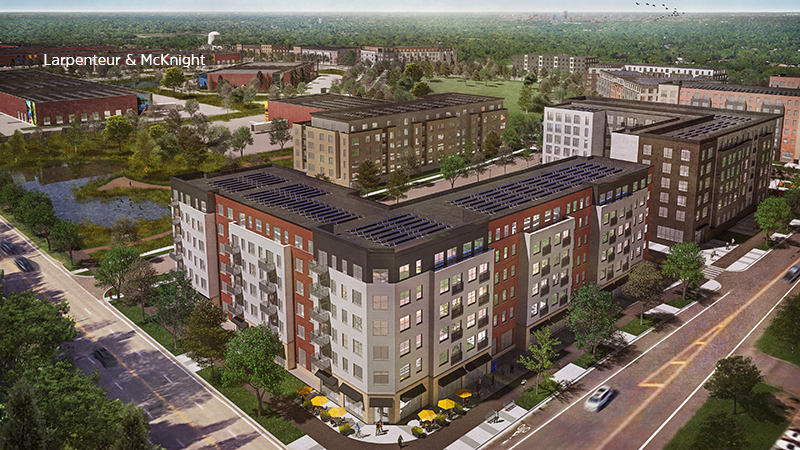 Residential Zoning
At The Heights, 25 acres are zoned for T1 and T3 housing. Sherman Associates has been selected as the lead housing developer, working in partnership with JO Companies and Twin Cities Habitat for Humanity.
INVESTMENT HIGHLIGHTS
12 acres dedicated to lower density residential
13 acres dedicated for high density residential
Strong focus on affordable housing partnerships
DEVELOPMENT PRIORITIES
Mix of market rate, affordable, and deeply affordable housing options
Ownership and rental opportunities
Concepts for large families (4+ bedrooms)
Significant sustainability investments to include energy efficient buildings, solar installations, EV car charging stations, etc.
Culturally diverse development teams
FUTURE AMENITIES
Trails
5 acre park
Wetlands
Stormwater features
Neighborhood node
Building and Site Requirements for Multi-family Parcels
Sustainability. The goal is to maximize rooftop solar and aspire to develop net zero buildings.
District Stormwater. We anticipate buildings being connected to a district stormwater system.
Public Art. Public art will be adjacent to public rights of way.
EV Charging Stations. As electric car usage increases, it's important to prepare for the future with a sufficient number of electric car charging stations. EV infrastructure and charging stations will be prioritized.
Master Plan and Community Priorities
Rental Housing Mix. There is a need for both affordable and market-rate rentals. These should include options for families and seniors.
Missing Middle. Affordable and market-rate housing options that fit between single-family homes and large apartment buildings are needed. These could include twin homes, townhomes, row homes, and options for larger families.
T3 Residential. There should be a minimum of (4) unit types per building. Finish levels should be the same for market-rate and affordable options. Multi-generational and live/work housing options are encouraged.
T1 Residential. There should be a minimum of (15) units per acre, including (2) missing middle options per block and a variety of facade treatments.